A few days ago I received a semi-frantic email from Kristy, mom of Pete.  Seems she'd found a sweet baby puppy.  He clearly belonged to somebody as he had on a little blue collar, but there were no tags and he hadn't been chipped.  With visions of a tearful reunion with his family, she had posted signs, sent out email blasts, basically doing everything she could think of to let his family know where to find him.  Unfortunately, no one has come looking for him.  I don't get it, Kristy doesn't get it, but what can you do?
She couldn't keep him, but really didn't want to have to take him to the city shelter if she could help it.  After 36 hours with the little guy, she was already a little smitten with the dude and wanted to make sure he was happy and well cared for.  I gave her contact information for a couple people.  When I received an email from Kristy that a plan had been worked out, I was thrilled… and she was so relieved.  He's up-to-date on his shots and will be neutered next week.  He's staying at Urban Paws, very busily making friends and charming everyone who meets him.  I told Kristy I'd run by and check on him.
She hadn't named him so Urban Paws gave him a name.  A fitting name, I think.  When they said they're calling him Cash, I smiled.
A little about the guy… he's definitely got a lot of rottweiler in him (they're guessing rottie/shepherd mix), and he's going to be a big boy.  He has no tail – like a rottie, but he's got some crazy ears.  Kristy's vet guessed him to be 3-4 months old, and he's got some serious paws to grow into.  He's still a baby so he behaves accordingly, though he's relatively calm (or at least he was when I visited him!).  He had a full spa day – bath, nails, glands, etc. – and is oh so handsome.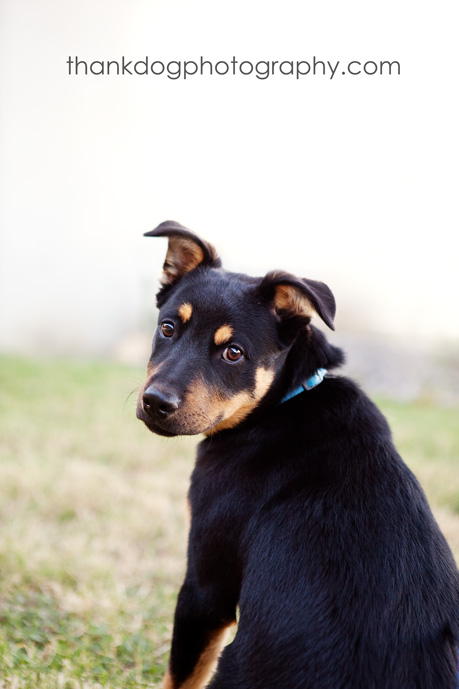 He will be available for adoption through Paws in the City as soon as he's de-boyed. If you're looking to add a sweet, big baby boy to your family, be sure to check him out — I have a feeling he'll be snatched up quickly by a lucky family!