So it turns out chihuahuas are different than newfs.  Or big lab mixes.  Or even shepherd mixes.  These little guys are fearless.  And fast.  And have an uncanny ability to poop 3-4 times their body weight every day.  They are cute little buggers though.  And they 'll be available for adoption by next weekend (they're going to get their second round of shots in the next few days, and then will be available a week later).  If you are interested in adopting one of them, please fill out an application at DFW Rescue Me.
First up is Louis, aka Pinky.  As I mentioned on facebook, when I look at the two light-colored ones, all I see is "Pinky & The Brain."  The pink, the ears… I can't be the only one, can I?  Anyway, Louis/Pinky is probably the funniest of the three.  He's typically the happiest to see me, and he loves a good tummy rub (which, on his little bitty belly, is done with one finger!).  And those ears.  Those fabulous dumbo ears.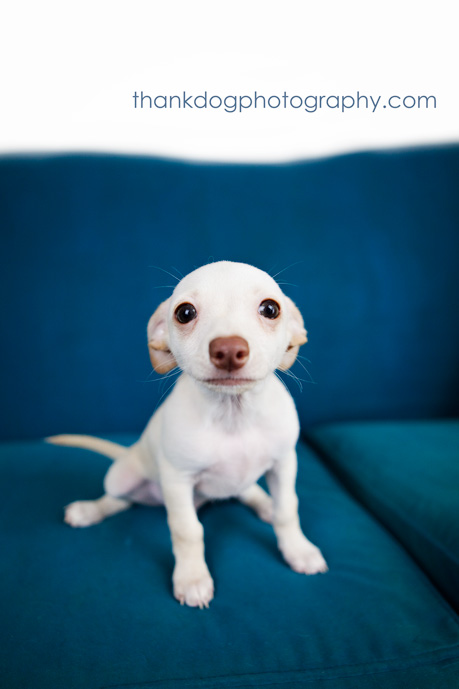 Next up is the munchkin, Fred aka Baby.  He's significantly smaller – and calmer – than the other two.  He'll get into wrestling matches with his brothers, but he really prefers to curl up and sleep on me.  He's a little less bold than the others, though that may be related to his size.

And, last but not least, the confident Frank.  He's the biggest and the boldest.  And, in my opinion, the most traditionally handsome.


These guys are really hard to photograph, particularly outdoors.  I usually like when it's just me and the pups, but these guys are very difficult to corral.  They're either under foot (literally) or they're all running off in different directions.  I typically am able to easily get a few good shots of the little ones by putting them up on my front porch (you'll notice quite a few photos of Finn, Moose and Lil Bit taken on the porch) as they are a little hesitant about tackling the steps.  After a few minutes, Finn discovered leaping off into the ivy, but Moose and Lil Bit never did quite figure out the stairs.  They'd hang out there, waiting for me to help them down — making them easy targets to photograph.  Yeah, well, the steps didn't even register as a possible obstacle with these tiny boys.  I'm not sure they wouldn't leap off the roof given the chance!

Ay, chihuahuas!