I may have mentioned in it on here, but I am really susceptible to a particularly severe case of puppy fever.  A snuggle into the crook of my neck, that sweet puppy breath… I'm gone.  Which makes a recent decision very dangerous.
I have two little puppies in my house right now.  Mom was seized from a hoarder – one of around 40 or so dogs.  Shortly thereafter, she gave birth to a litter of 12 (!).  Once all the legalities from the seizure were resolved, the little turds and their mom were pulled from the city shelter by DFW Rescue Me, and, after a short period at a vet clinic to ensure their health, they went to stay at a very generous volunteer's home.  Now the little ones are 8-9 weeks old and are ready for adoption into their forever homes.  I agreed to foster one now that they are old enough to be separated, but when I went to pick him up, I decided two might be a better idea for them (I think it was – it's made the transition a lot easier).  Saint Bear isn't completely sure what to make of the squirmy little things with sharp teeth and nails, though he's already fretting a bit over them.  The Princess, on the other hand, is less willing to share her spotlight so the pups' new temporary home is my master bath — they get out a lot, of course, but that's where they're doing their eating, sleeping, and the majority of their peeing and pooping (on a side note, my puppies have been a lot bigger than these two — I can't even tell when they – especially the girl – are taking care of their business since they're so close to the ground anyway!  It's slowing the housebreaking process, but we have started working on it).
So here's the two….  Mom is an Australian Shepherd mix, and 11 of the 12 have a similar look (about have are tri-colored/black, the other half are colored more like a German Shepherd).
The bigger of "my" two is the boy puppy, definitely one of the 11. He's the more adventurous and busy one of the two, and appears to be quite smart and confident.  He's a little toot, very "puppy" and has developed a little crush on Bear.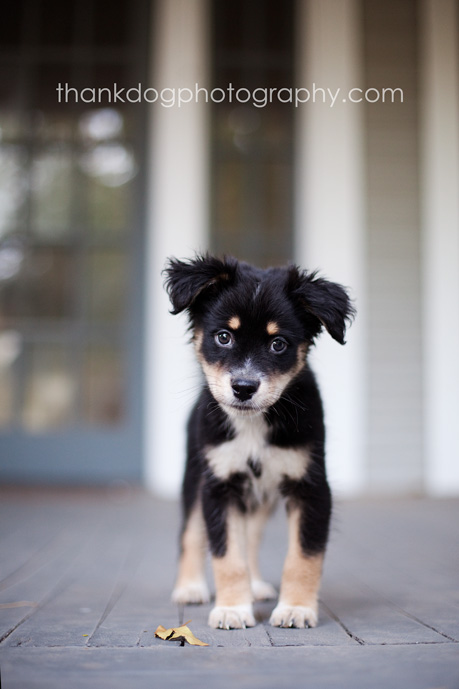 He watches Bear closely, and shows off a little, doing his clumsy puppy run/jump/stumble/play bow.  (He's still a little too young to be much fun for Bear as all he does is chew on Bear's tail or paw at his face, so mostly he just follows Bear around and dances around in front of him while Bear tries to politely take leave.)
It's a little hard to tell, but that's Bear's tail he's got.
The wee one is the girl puppy, and she's the 1 of 12… She's about half the size of her brother (she can – and frequently does – walk right under him), and has completely different fur than him.  She actually looks more like a shih tzu (maybe?) puppy than a shepherd mix — or an adorable cross between a Gremlin and a hamster (she's a wee one).  She definitely had a different daddy than her brothers and sisters.
She's not as curious as her brother, but she's a scrappy little thing.  They puppy play and fight a lot, and she holds her ground.  She's a burrower – she keeps fidgeting and moving around until she finds the perfect spot to snuggle into to nap. She's not particularly interested in Bear, but she's not afraid of him either.  When outside, the little puffball sticks pretty closely by, and if I stop moving, she inevitably parks herself on my feet.
These two adorable fluffpuffs are available for adoption through DFW Rescue Me.  If you are interested – or know somebody who is – please email me for more information (debbie@thankdogphotography.com) and/or go to the DFW Rescue Me website and fill out an adoption application.
I should probably go ahead and apologize in advance for the likely avalanche of photos of these two little ones in the upcoming days!